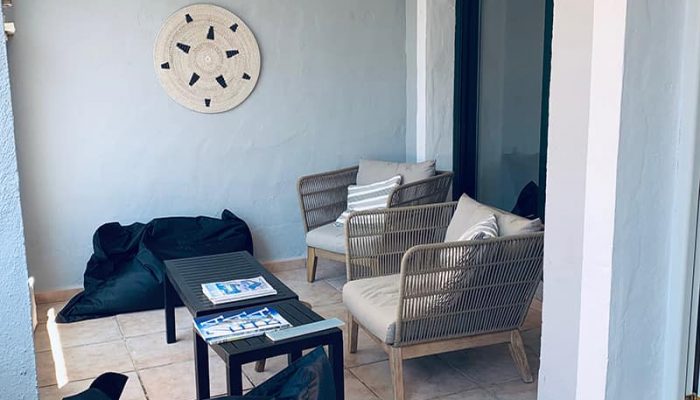 See  how we turned a tired old 1990s house in a remote coastal area of Spain into a modern, slick "surf shack" right on the beach that has a cool LA beach vibe but keeps the Andalusian charm.
Having recently moved from Madrid to California in 2015 we missed the relaxed lifestyle of Spain we snapped up a bargain in buying a run down house in Zahara de los Atunes that was crying out for attention. Doing it from afar, we decided to start small and in the most cost effective way by making little changes with maximum impact. 
By choosing all furniture in natural tones and fibres it kept the house very neutral. Partially chosen by the children, we have all the nautical colour schemes from natural rope colours, to the traditional blue and white and coral. We changed the bathrooms based on one we had seen in a small café in Seville. We lugged fabric from California and had soft furnishings and window treatments made locally.
Over the following summers, we expanded the outdoor spaces and doubled the ground floor space by firstly adding black and white Spanish tiles, a breakfast bar and hanging terracotta pots of geraniums making a courtyard reminiscent of those found in nearby Cordoba. Extending the top terrace to double that space enabled us to get better sea views, and finally the gate on the main terrace was pushed out to make a suspended sofa. We opted for an exterior colour in a warm grey to fit in with the rocks of the Sierra del Retin behind. 
The lower courtyard is still a work in progress as we await the growth of the grapevines. We have added more plants, a BBQ area and created a place to dump surfboards, sun-umbrellas and sand.
If you like to work with me to collate ideas, or to find a common design theme and design goal for your next project, click Contact Me.